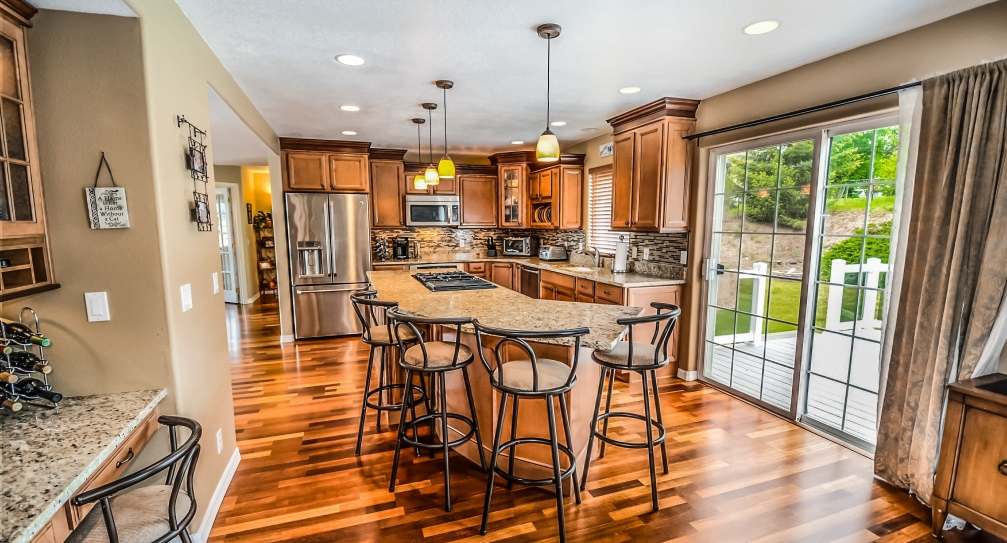 Sustainable, a timeless classic, and durable, wooden flooring can be the best choice when opting for flooring for your home. When looking to maintain wooden flooring, you should have a guide on how to keep your floors clean for its longevity and a good hardwood floor refinishing contractor.
Many people opt for wooden flooring is because of how simple it is to clean. It's no secret that if you want your wooden flooring to be long-lasting in its durability, you need to look after it. Here are a few simple steps you can take to take care of your hardwood floors.
Avoid Moisture!
Every time you spill something on your wooden flooring, the wood may swell or shrink. This is why keeping moisture and humidity levels down is important to avoid gaps and splits in the wood. You can invest in a humidifier or a dehumidifier that can keep the relative humidity to 30%-50%.
Clean up any spills immediately with a mop or a paper napkins. Don't use any wet or steam mops because moisture can also cause wood damage.
Get Rid of the Dust
This may sound hectic but every floor must be swept with a soft bristle broom daily to remove dust and grit. Walking on a dusty floor is one of the quickest ways to cause damage to wooden flooring.
Dust can settle in between the floorboards and scratch the finishing. This will make the floors appear old and dull. Clean the dust in your home by routine cleaning with a vacuum and broom will keep your woods shiny and new for generations.
Walk-Off Mats
Having a no-shoe rule is a good idea with wooden flooring. But if your home members are adamant and don't listen, you can put mats at all exterior entrances. The mats help to collect as much harmful dirt before it enters your home.
It is almost important to shake out, vacuum, and wash these mats frequently.
Invest in Floor Protectors
It isn't an easy job to keep your hardwood floors from being scratched with kids running around moving the furniture. Even adults can sometimes scrape the legs of their chairs on the floor during dinner.
The best way to protect your floors is using floor protector pads, or a soft felt material that can be placed on the bottom of the legs of furniture. They protect your floors from being scratched which is the kind of damage that is hard to get rid of. Floor protectors should also be kept clean and replaced after some time.
Dull Floors Can Be Rejuvenated
When your hardwood flooring starts to look a little old and dull, you can renew them by recoating! Applying a fresh coat of wood floor finish will keep your floors new and shiny.
Hardwood flooring can be a rewarding investment. If you're looking for high-quality and top-of-the-line hardwood flooring specialists in Orange County, Dutchess County, Ulster County, Putnam County, or Newburgh NY, Wayne Maher Hardwood Flooring is your go-to! Wayne Maher Hardwood Flooring provides the best hardwood floor installation and hardwood floor refinishing in the industry.
Give your home instant appeal by choosing our high-end hardwood flooring services. Contact our hardwood floor specialists today!