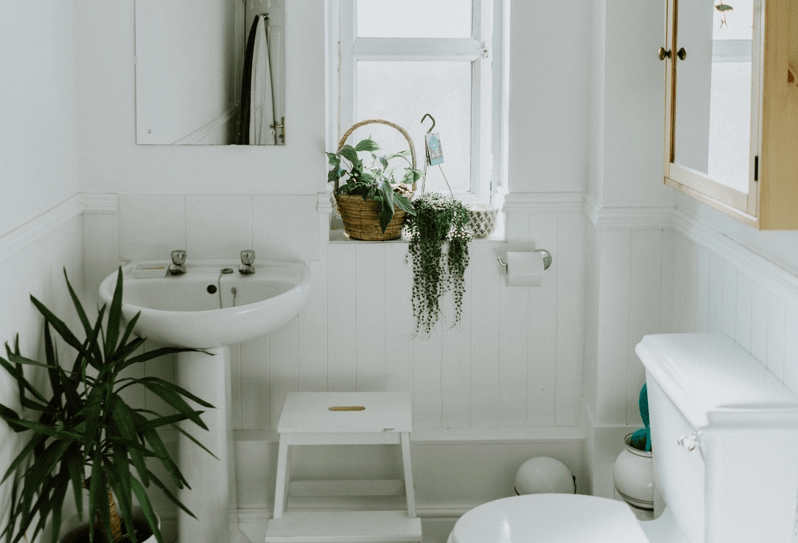 Your bathroom is one of the most important parts of your home. Many people neglect this, but a good and neat-looking bathroom transforms the look of your house. Luxury bathrooms nowadays are built with extravagant designs and details.
One major aspect of a bathroom is the bathroom floor. A bathroom is a much different place compared to other parts of the house. There are several different options for bathroom flooring, let's look at some of them in this blog.
1. Ceramic Tiles
If you want a classic bathroom design, choose ceramic tile for your bathroom flooring.
Ceramic tile floors are not only stylish but are also tough and long-lasting. Ceramic tiles are water-resistant, therefore you don't have to be concerned about damages or wear from the water or moisture all of the time. Only the grout in between the tiles will show signs of wear.
2. Porcelain Tiles Flooring
Porcelain tiles are more durable than ceramic tiles and produce a long-lasting floor if properly cared for. These tiles are ideal for your bathroom flooring. When you add the patterns, it's almost impossible to resist. These tiles are durable, do not easily crack or scratch, are water- and moisture-resistant, and come in new, modern styles to keep up with changing trends.
Ceramic tiles were once popular, but porcelain tiles are rapidly growing in popularity as more people choose them for their long-lasting nature and beauty. Porcelain tiles are extremely simple to clean and require little upkeep.
3. Vinyl Flooring
Vinyl flooring is another great option if you're looking for bathroom flooring. Vinyl flooring comes in panels and sheets and is water-resistant. This means the panels won't break or bend due to moisture and water. This also doesn't allow the growth of mold and other fungi in or under the panels.
4. Marble Flooring
Marble, a stone found naturally, is a popular bathroom flooring material for ages. It has a beautiful appearance and is mostly colored, with darker veins mixed in. Marble comes in a wide range of colors, including pinks, blacks, greys, and blues.
Marble is heat and water-resistant, however, it's not very long-lasting. This is because marble is susceptible to cracking and chipping. But, on the other hand, it adds luxury, elegance, and refinement to any place, making it an excellent choice for luxury bathrooms.
5. Engineered Hardwood
Although hardwood itself doesn't do well in places where there is excess moisture and water, engineered hardwood might interest you.
Made with a plywood base, it's designed to withstand a little more water and moisture levels than normal hardwood. Hardwood is usually used to give a natural look to bathrooms.
If you're looking for a top-quality hardwood floor installation company for your bathroom in New York, we have the best floor installations and refinishing experts onboard, and provide dustless sanding services and residential flooring repair. At Wayne Maher Hardwood Flooring, we have skilled and experienced hardwood contractors to serve you with all your flooring needs. Contact us now for further information.