White Oak Flooring Installer
Your Floor. Our Passion.
White Oak Flooring Installer in Middletown
NY Areas - Find the Best Installers Near
You!
Call Wayne Maher Flooring (914) 213-3995 We provide white oak flooring installation in Middletown & Newburgh, NY, Were your top choice for White Oak Flooring Installation in Hudson Valley as well. Our skilled installers have extensive experience and utilize cutting-edge tools and technology for a seamless installation experience. We are committed to ensuring customer satisfaction and delivering exceptional customer service. Reach out to us now for further information on our offerings and discover how we can assist you in achieving the ideal flooring solution for your residential or commercial space.
Professional White Oak Flooring Installers Near You
Wayne Maher Hardwood Flooring, based in Middletown & Newburgh, NY, is the leading specialist in White Oak Flooring Installation. With skilled installers and cutting-edge tools, we ensure a seamless installation. Our top priority is customer satisfaction, and we strive to deliver exceptional customer service. Reach out today to discover more about our services and how we can assist you in finding the ideal flooring for your residence or commercial space.
Find the Best White Oak Flooring Installers in Middletown & Newburgh
We are the top white oak hardwood floor installers in Middletown & Newburgh, NY. Our skilled
craftsmen have years of experience installing hardwood flooring in various settings, and we are committed to delivering high-quality results for every project. As the leading hardwood flooring company in the area, we offer a wide range of products and services to meet our clients' needs. From custom floor designs to traditional white oak flooring, we have options for every preference and budget. Our hardwood flooring installation process is thorough and efficient, ensuring careful attention to detail. We take pride in our work and aim to surpass our client's expectations.
Local White Oak Flooring Installation Services
In addition to its durability, the attractive grain color pattern of white oak adds to its appeal as a flooring option. The straight and open grain pattern gives it a rustic and natural look that many homeowners find appealing. It can be stained in various colors, allowing customization to match any decor style.
Another advantage of white oak flooring is its versatility. It can be used in various settings, from traditional to modern, due to its neutral color and timeless appearance. It is also compatible with light and dark furniture and provides a warm and inviting atmosphere.
White oak is also a sustainable choice for flooring. It is readily available and does not require the destruction of old-growth forests. Many white oak forests are managed responsibly, ensuring that the wood is harvested sustainably. Contact us at (914) 213-3995.
Expert White Oak Flooring Installers in Middletown & Newburgh
White oak and red oak are often confused, but there are distinct differences between the two types of wood. White oak has a tan or brown heartwood with a slight olive coloring, and it stains well. It is slightly harder than red oak and is more commonly available in quarter or rift sawn (vertical grain) cuts, although it can also be found in plain sawn (flat or cathedral grain) cuts.Many people prefer the olive brown color of white oak over that of red oak, especially when the floor will be finished natural.
In conclusion, white oak is an excellent choice for hardwood flooring due to its durability, versatility, and attractive grain pattern. Its resistance to dents, scratches, moisture, and rot makes it suitable for high-traffic areas and humid environments. Its natural and rustic look can also be customized to match any decor style. Overall, white oak is a sustainable and beautiful option for homeowners looking for long-lasting and stylish flooring.
In terms of installation, white oak flooring offers a variety of options. Whether you choose to glue, float, or nail it down, you can be confident that it will suit your specific needs. Follow the manufacturer's instructions and use the correct tools and techniques to ensure a professional and long-lasting finish. White oak flooring is also an environmentally friendly choice. It is a sustainable resource that can be recycled at the end of its lifespan, minimizing its environmental impact. Moreover, it is highly durable and long-lasting, reducing the need for frequent replacements.
Benefits of installing white oak in Middletown & Newburgh
There are numerous advantages to selecting white oak flooring for your home:
1. Exceptional durability: White oak boasts a dense and complex composition, rendering it
highly resistant to dents and scratches. Additionally, it is impervious to moisture and rot, making
it ideal for regions with high humidity.
2. Hassle-free maintenance: White oak flooring is effortlessly clean and maintainable. You
can easily wipe it down with a damp cloth or mop without harsh chemicals. It is also highly
resistant to staining, making it a perfect choice for families with children or pets.
3. Unmatched versatility: White oak can be transformed with a broad spectrum of stain
colors, allowing homeowners to customize their flooring to match their interior décor.
Additionally, it can be installed through various methods, such as floating, gluing down, or
nailing down.
4. Sustainable choice: White oak is a sustainable resource that can be recycled at the end of
its lifecycle, making it an eco-friendly option. Its exceptional durability and longevity also mean
it requires less frequent replacement than other flooring types, further reducing its environmental
impact.
Why Choose Us
Experience matters when it comes to white oak hardwood flooring installation. With our skilled craftsmen, you can trust that your project will be handled with the utmost care and expertise. From proper acclimation to precise alignment, we pay attention to every detail to ensure a professional and long-lasting finish. We only use top-quality materials that can withstand the test
of time. Our commitment to excellent customer service means we will work closely with you to understand your needs and preferences. Plus, our competitive pricing ensures that high-quality craftsmanship is accessible to everyone. Choose Wayne Maher Hardwood Flooring for your white oak installation needs.
When you choose Wayne Maher Hardwood Flooring for your white oak hardwood floor installation in Poughkeepsie and surrounding areas of New York, you can trust that you are getting the best in terms of quality, service, and value. Contact us today to schedule your consultation and start the process of bringing the natural beauty of white oak into your home. From installing new hardwood floors in Hudson Valley or any of the areas nearby you, to refinishing existing ones, our team has the skill and knowledge to deliver exceptional results. Contact us at (914) 213-3995.
Daily Deals with Wayne Maher
The More Space You Convert, The Better The Deal
We can even help you convert more space into living space by offering discounts on larger jobs!
The Early Bird Discount
The earlier you fulfill your payment after the bill has been estimated, the more discount you get on the total account of your hardwood flooring.
5% Off For Military, Veterans, And Family Members
We take pride in our country, and offer a 5% discount on the total bill for hardwood flooring for all veterans and their families.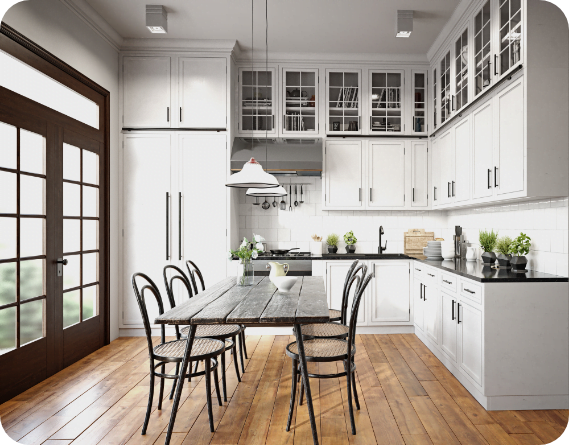 What Customers Have to Say
Our Hardwood Flooring Process
For hardwood floor installations, remodels, repairs, and refinishes, we follow a simple three-step process.
Assessment
1
Call us for an estimate to discuss your options and find a beautiful hardwood floor that fits your budget.
Work
2
Our team will use the best hardwood floor material, finish, and stain to complete your flooring project.
Results
3
We leave your home with a clean beautiful hardwood floor. Check out some of our past projects to see for yourself.
New Flooring Starts Here
Over 30 Years Of Experience
Products And Services Are Fully Insured
Expert Advice To Customers
Premium Installation And Restoration Services
Get Started With The Best Floor Today!
Hardwood flooring is beautiful, and it can be made even better with a little bit of care. At Wayne Maher Hardwood Flooring, we know that restoring your hardwood floor brings out the ultimate beauty of your home. Contact us today to get started with the flooring experts.
How Can We Help?
There are many reasons to choose Wayne Maher Hardwood Flooring for your hardwood flooring needs. We won't stop until you're satisfied.
Contact Us
* Indicates required questions